Palm Drills are available at £6.00 each. To buy click below.

UK P&P is £5.00 for all quantities (within reason!), but please email me if you need to make a bulk trade order.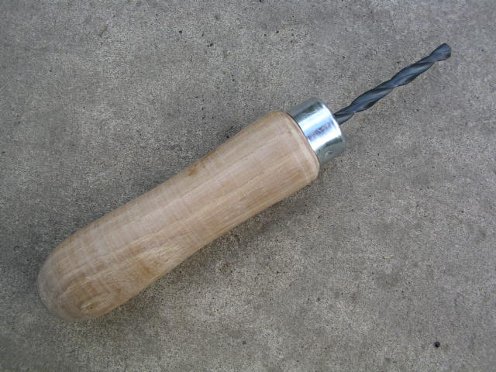 For drilling small, clean holes in wood, Palm Drills are light and convenient. I made the original Palm Drills in about 2009, and since showing the idea to a few Sussex Wildlife Trust Forest School Leaders the drills have become very popular. A video demonstration of a palm drill in action can be seen here.
This is a standard 5mm diameter Palm Drill. The handle is about 100mm long.
I'm happy to supply schools, conservation organisations etc. on receipt of a Purchase Order: Contact me.
I go to considerable lengths to ensure reliability in my Palm Drills, and although they have been copied I am sure that they have not been bettered.
*Palm Drills are for use within the context of a properly conducted Forest School session: they are not a toy!*
© Ian Swain 2016